WashJam 2016 will soon be here!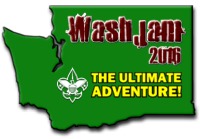 http://www.washjam.org/
This year the jamboree will be at Fort Lewis' North Gate on August 26th (Friday)  and 27th (Saturday).
A link to the Aug 13th club presentation is here:
http://www.lakewashingtonhamclub.org/wp-content/uploads/2016/08/WashJam-LWHC-meeting-13-Aug.pdf
(lots more detail in the deck)
The Lake Washington Ham Club will be sponsoring a large and very active ham radio booth at WashJam 2016. Activities include:
Four Radio Merit Badge courses will be offered (two on Friday; two on Saturday)
Two FCC exam sessions with 90min 'exam cram' courses available just prior to the exam (we will offer both new Technician exams as well as upgrade exams for General and Extra)
A "Get On The Air" (GOTA) HF station
A DSTAR station
A SOTA station
A Disaster (GO-KIT) station
If you are interested in the Morse Code Interpreters Strip then here is an interesting link for resources: http://www.k2bsa.net/morse-code/  While you will need to practice and study beforehand, at WashJam 2016, we will offer 5WPM Morse Code qualification testing on-demand. Contact us at the Ham Radio Activity Booth.
All licensed ham radio operators (youth or scout leaders) will have a 16-channel Baofeng BF-888S UHF HT available to them. A $10 deposit is suggested — if you like the radio, just keep it rather than reclaiming your deposit. A custom WashJam band plan will be pre-programmed into each HT with talk simplex channels and local area repeaters in the Lakewood area.
If interested, join the WashJamHams Yahoo group to keep abreast of our activities at
https://groups.yahoo.com/group/WashJamHams