Club Leadership
Club President – Brian Stucker, KB2S — k7lwh@kb2s.net
Vice President – "dB" Baker, WA3DB — guttyr@gmail.com
Secretary – James Wraalstad, WQ7H — jmwraalstad@outlook.com
Treasurer – Don Sayler, W7OXR — don.sayler@gmail.com
Membership – Ron Poole, KF7YHQ — snwbird1111@gmail.com
Past Board Members
Dave Wickert, AE7TD, President
Eric Jarvi, AD7F, Vice President
Steve Davis KI7ICL, Secretary
Horace Hamby, N7DRW, Secretary
Chris Shriver, KE7EBL, President
Leanne Clawson, KE7MJS, Vice President
Dave Condon, KI7YP, Founding Secretary/Treasurer
Conrad Thompson, N7DUO (SK), Founding Vice President
John Schurman, AA7UJ, Founding President
Club History
K7LWH, the Lake Washington Ham Club, is a radio community project designed to help 9-12 year olds earn an Amateur Radio License. The project was started in 1993 after ICOM of America agreed to loan an elementary classroom an amateur radio. The classroom teacher, Dave Condon, then received help through the Boeing amateur radio group to earn both the required Novice and Technician class license. From that start in 1993, the amateur radio project has gone on to license over 1000 students and parents. In 2007, 130 9-10 year olds and their parents earned their amateur license. Since then the club continues to promote amateur radio within our community with many adult and youth oriented services.
How to join us . . .
To join our club Groups.IO group, at https://lwhc.groups.io/, you must be a member of the club. The actual joining of the group is moderated so there may be a delay. If you have joined and you do not get a confirmation within a day or so, contact Dave Wickert, AE7TD (dwickert@hotmail.com) to see what is going on.
Our current QSL card is: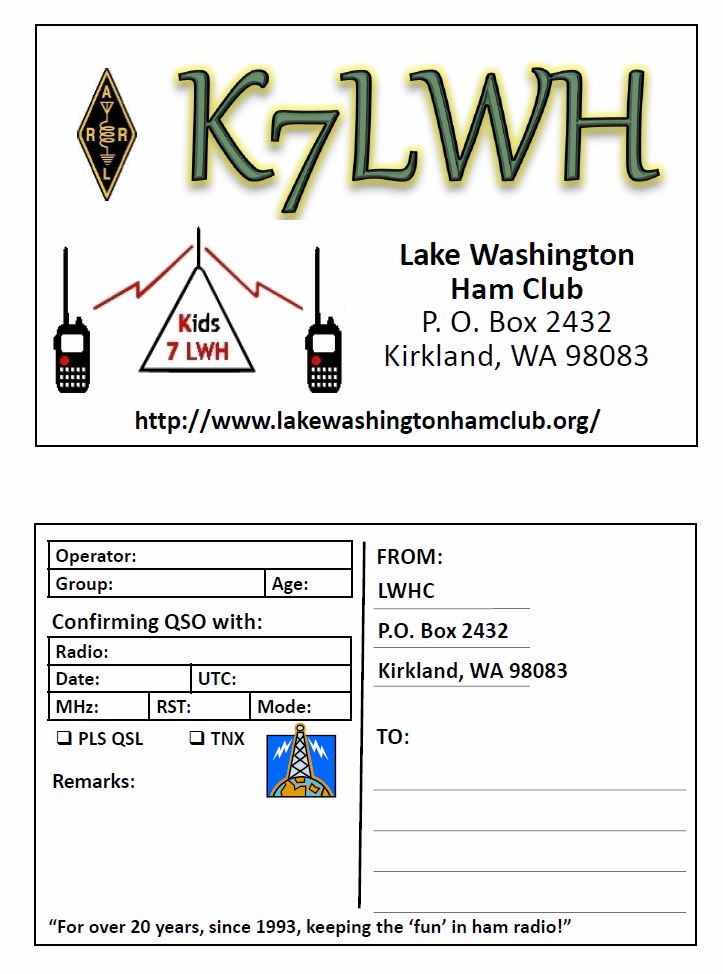 73!